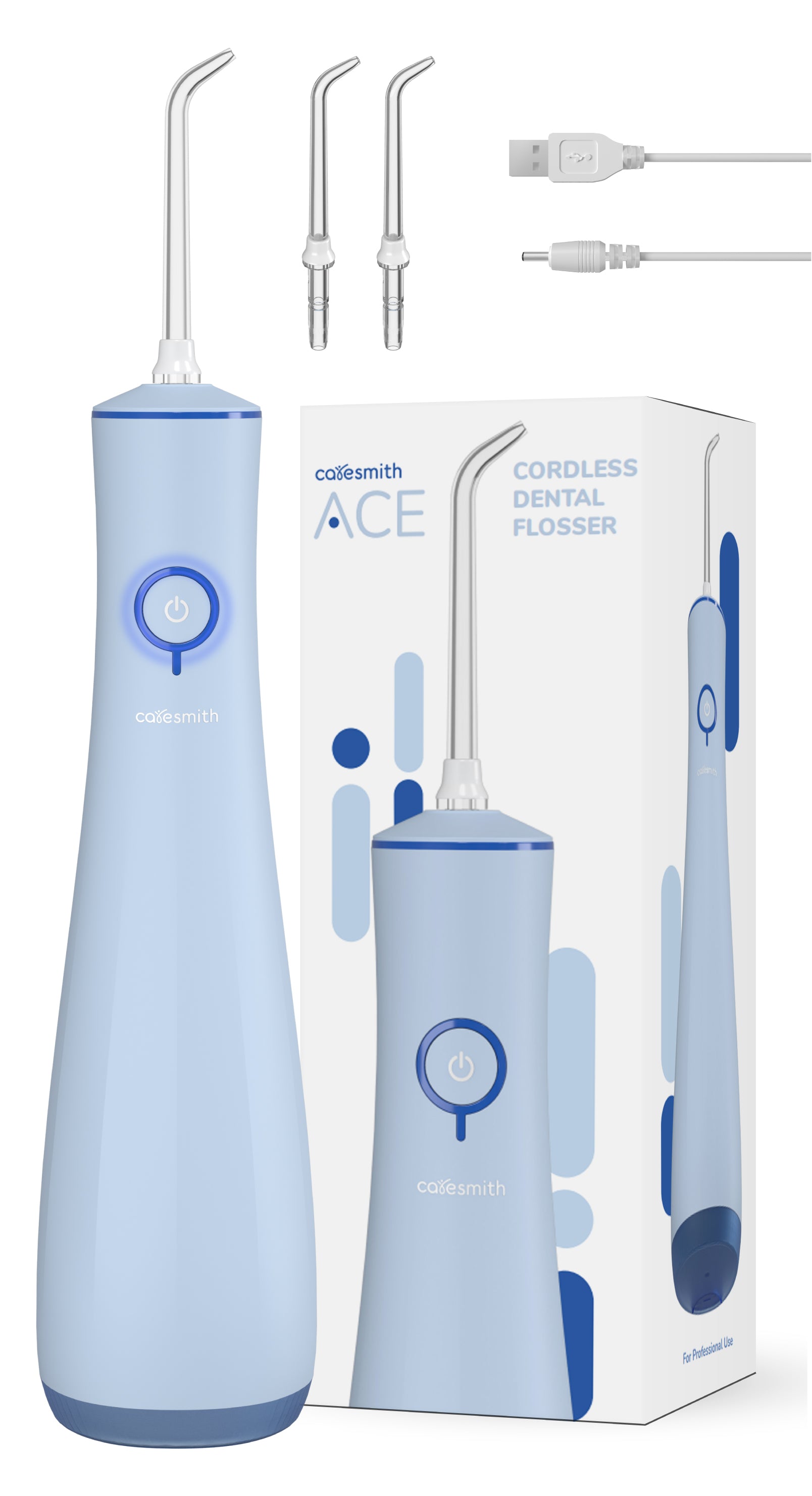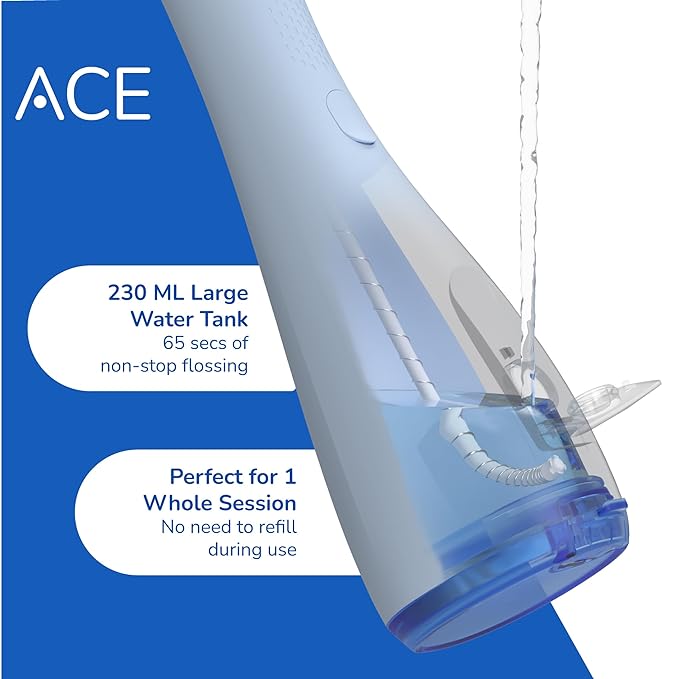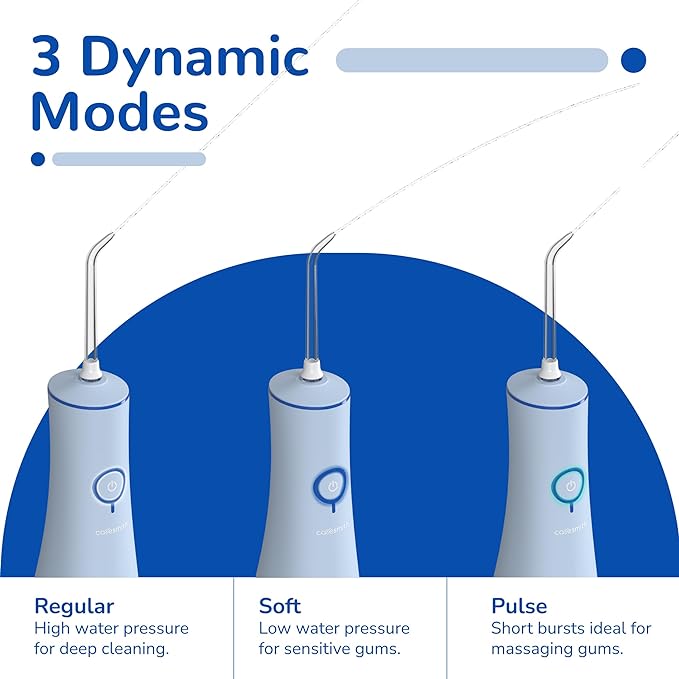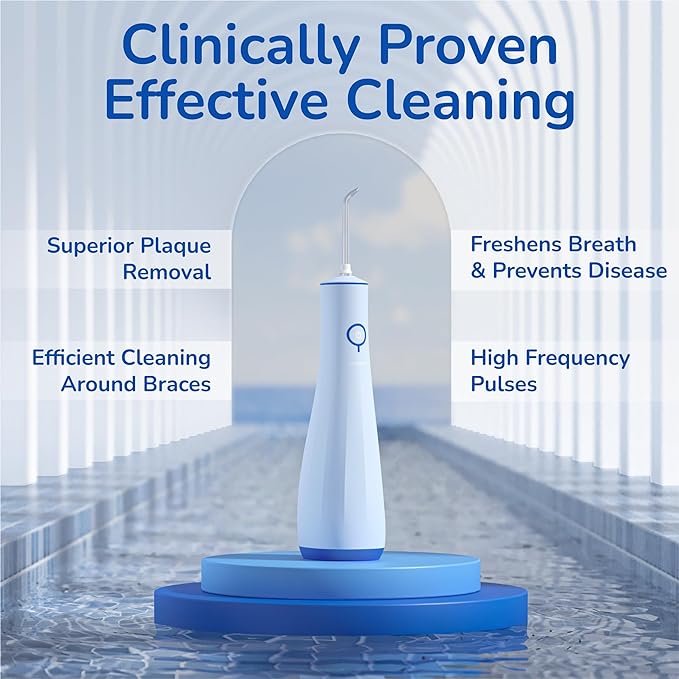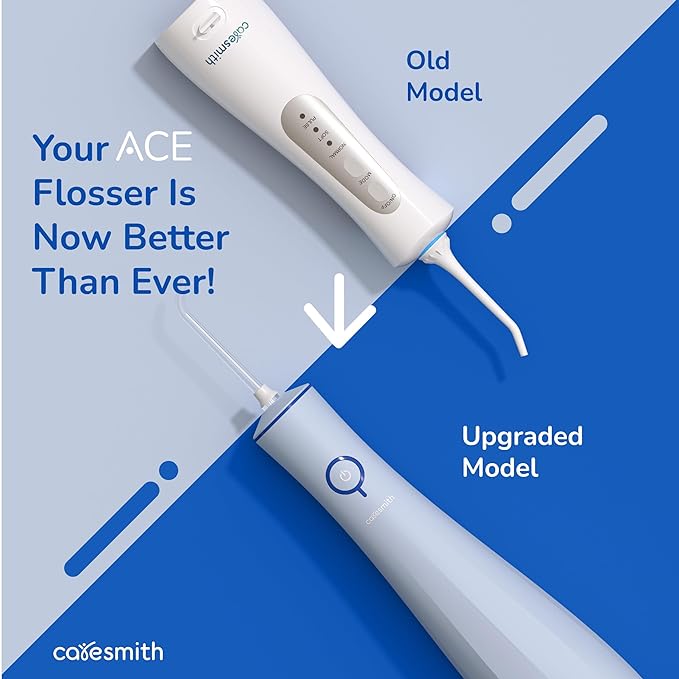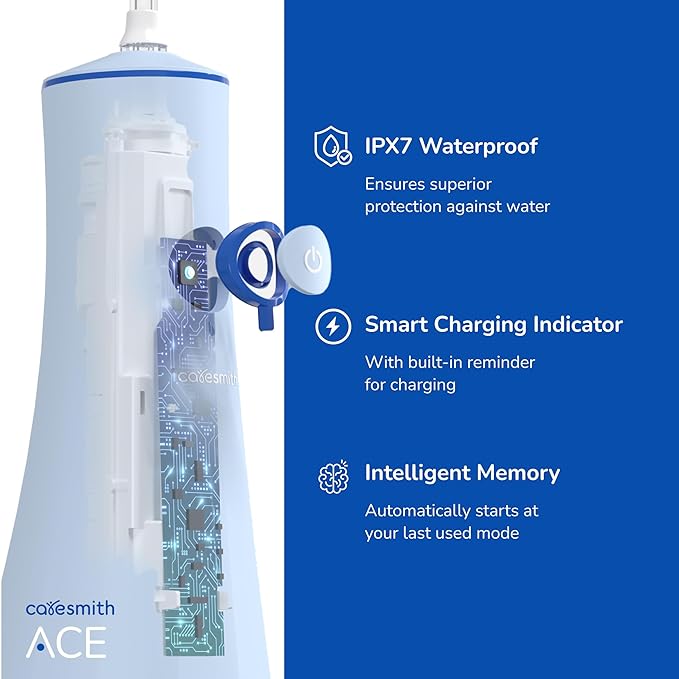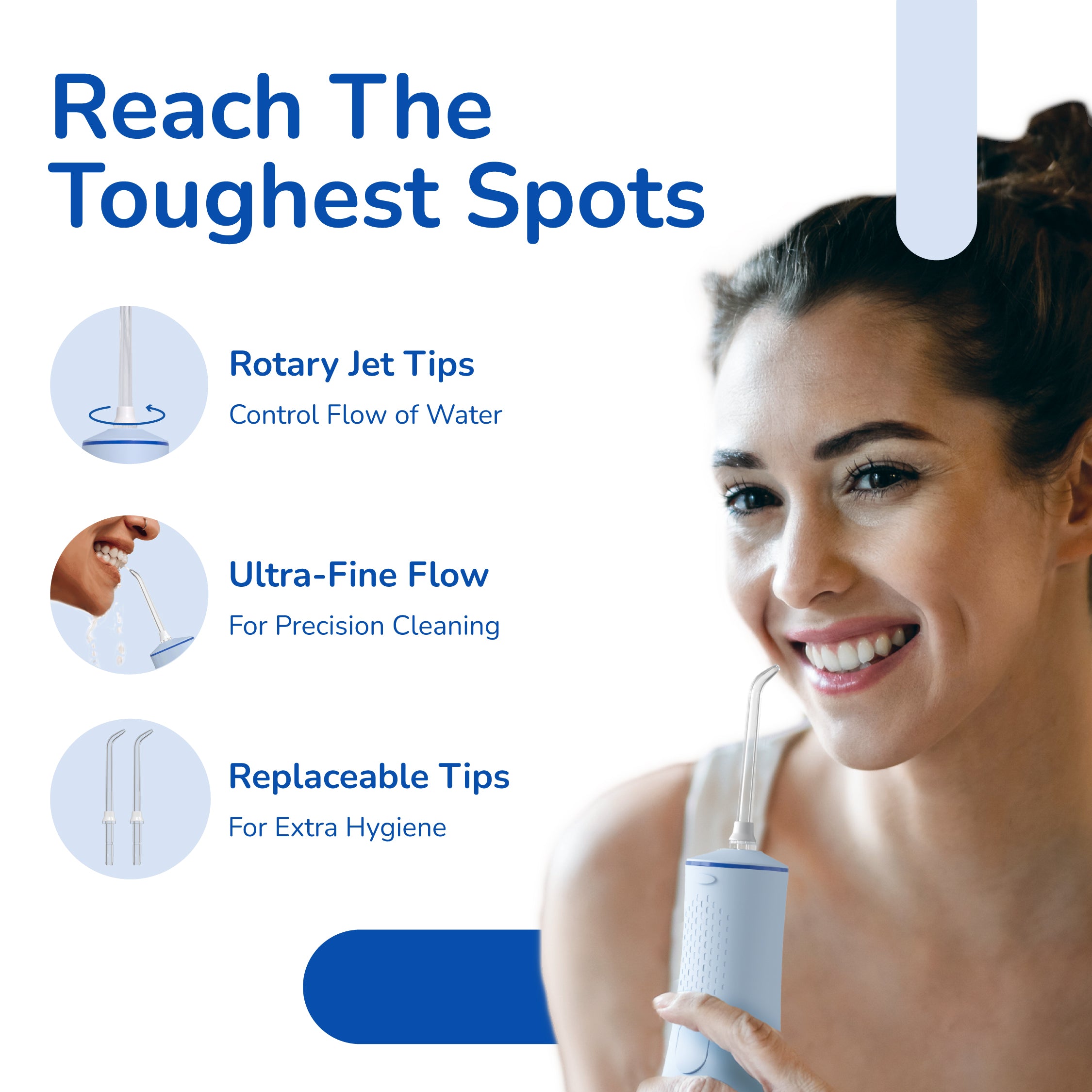 Maintain a fresh and healthy smile with the portable Ace cordless water flosser.
Regular price

Rs. 1,499.00

Sale price

Rs. 1,499.00

Regular price

Rs. 4,650.00

Unit price

per
1] Waterproof: IPX 7
2] Battery Type: DC3.7V, 1500mAh, Lithium Ion Battery
3] Power Source: DC 5V USB Charging
4] Product Size: 63x87x230mm
5] Weight: 312g
6] Water Tank Capacity: 230ml

1] 1 Ace Cordless Dental Flosser
2] 2 Standard Jet Tips
3] 1 Charging Cable
4] 1 User Manual

1] Open the water tank inlet opening and pour distilled water into the tank. Close tightly.
2] Insert the jet tip into the jet tip socket at the top. Ensure you hear a clicking sound.
3] Place the flosser tip inside your mouth and switch on the device by pressing the power/mode button
4] Select your mode by pressing the power/mode button
5] After you finish flossing, press the water tank lid button and pull out the lid. Drain out any excess water from the tank.

Note: Make sure the suction pipe is tilted facing 90 toward the front of the dental flosser.
Good product, but you need to learn/practise how to use it
The product is good. Though it is a bit bigger than my expectations. This is because it must hold the water tank as well.However, the tricky part is the process of using it. Without the proper usage you will be throwing water everywhere including your face and body.After sometime of usage and looking in the internet, I found that you have to keep it as close to the teeth/gum as possible with you almost fully mouth shut. Keep you finger over the on/off switch so that you can turn it off quickly.Do not use the normal mode in the beginning, use the soft mode. Normal mode may hurt.Overall it is a useful product, you just need to get used to it.
Leaks water. Potential electrical hazard
After one week of usage it leaks water from just above the charging socket. Even if I press the button to change the mode it starts leaking water. Money wasted
Superb aftersales and product
An excellent product which has saved me so much pain and trouble....I have a bridge and food was often getting trapped and causing infections in my gum....since I started using this I've not had any problems.....even better than the product itself is the service I have received from Caresmith aftersales service....when my waterpick developed a problem they sent a replacement without any quibble at all....all I had to do was send a video of the malfunction and fill in a form showing the original order details and address to send the new one.....when the replacement developed a problem I was offered another replacement or a refund.....I asked about the guarantee on the replacement whether it would commence when the product was first purchased or from receipt of the new one and was thrilled when the reply was that it commenced from receipt of the new one.....I can wholeheartedly recommend this Caresmith waterpick
Poor design , not returnable and faulty product
I have been using waterpik for several years, caresmith copied their design and created one but it's not a brilliant. The nozzle pours out water in a few seconds and it's not precise like water pik. Also, the bottom tank leaks. Now it's a complete worthless piece of junk sitting in my house and collecting dust. Buyers Beware, this product is NOT returnable.
Very useful...
It very useful to clean of your mouth and teeth. Use mouth fresher leguid with water while using. do not eat for 30/40 min after using for good impact.it is more more beneficial then using floss. It is harmless. It comes with 300 ml storage which is enough for cleaning.one star deselect due to cost.rest things are very helpful.
We're committed to delivering on our promise with 100% dedication.