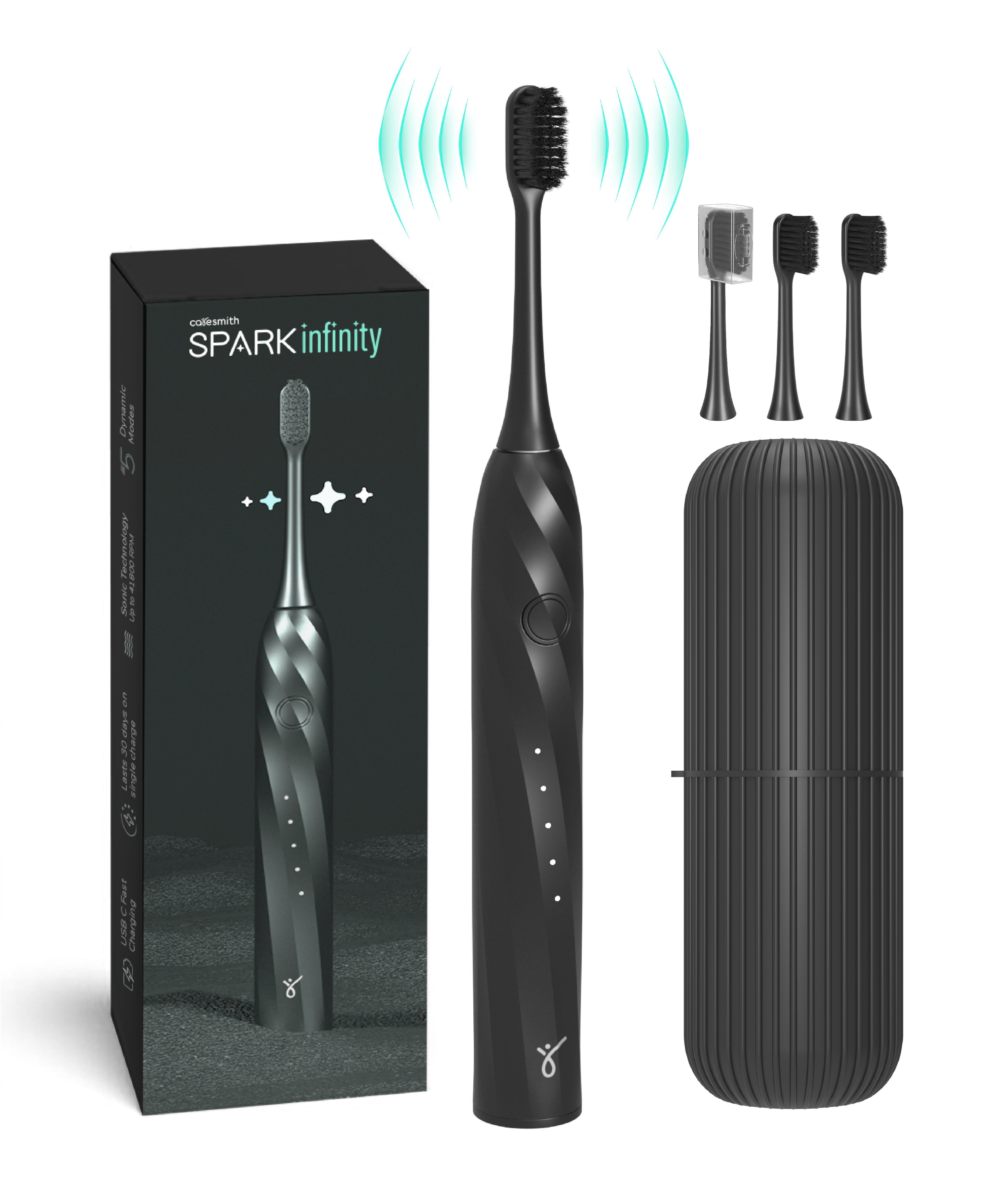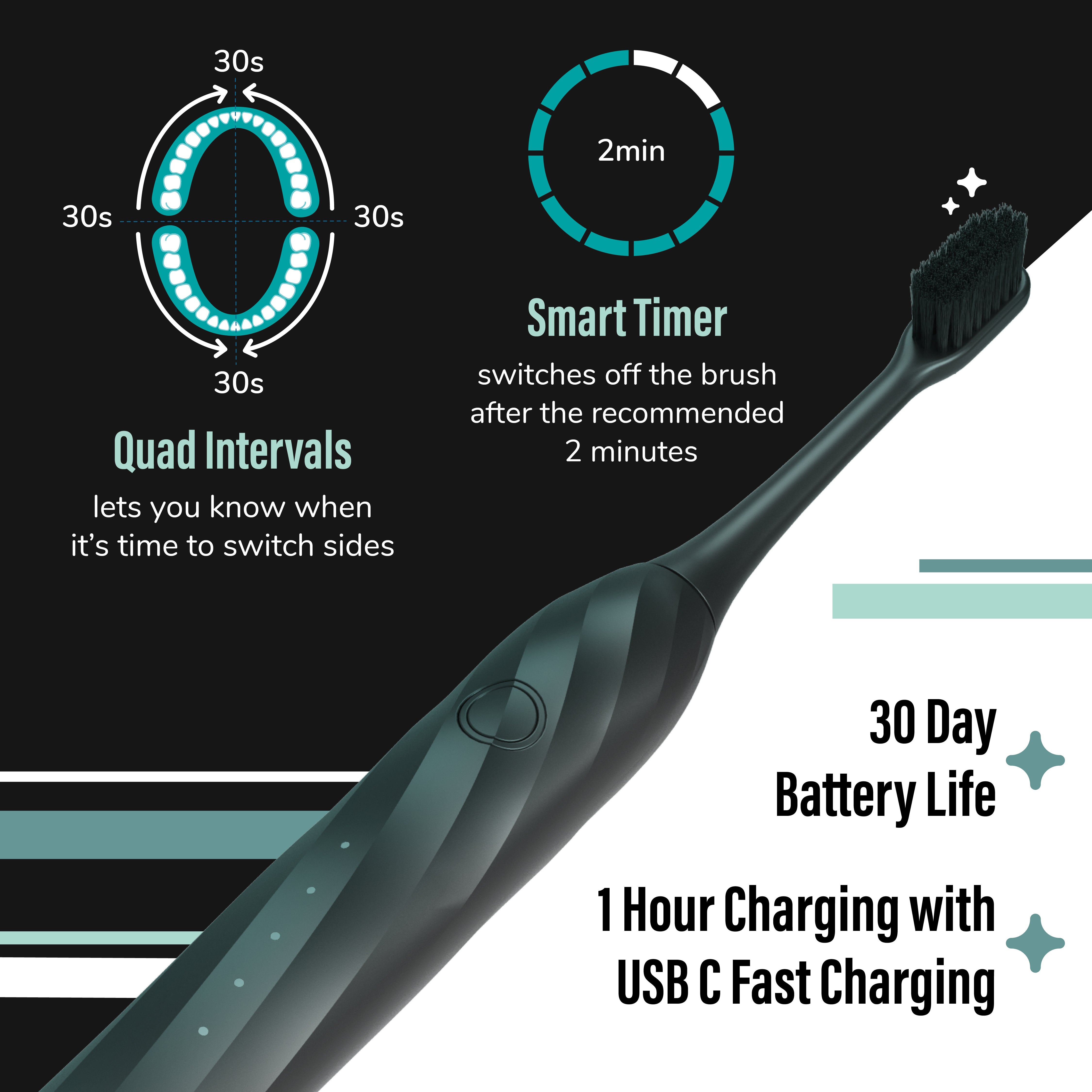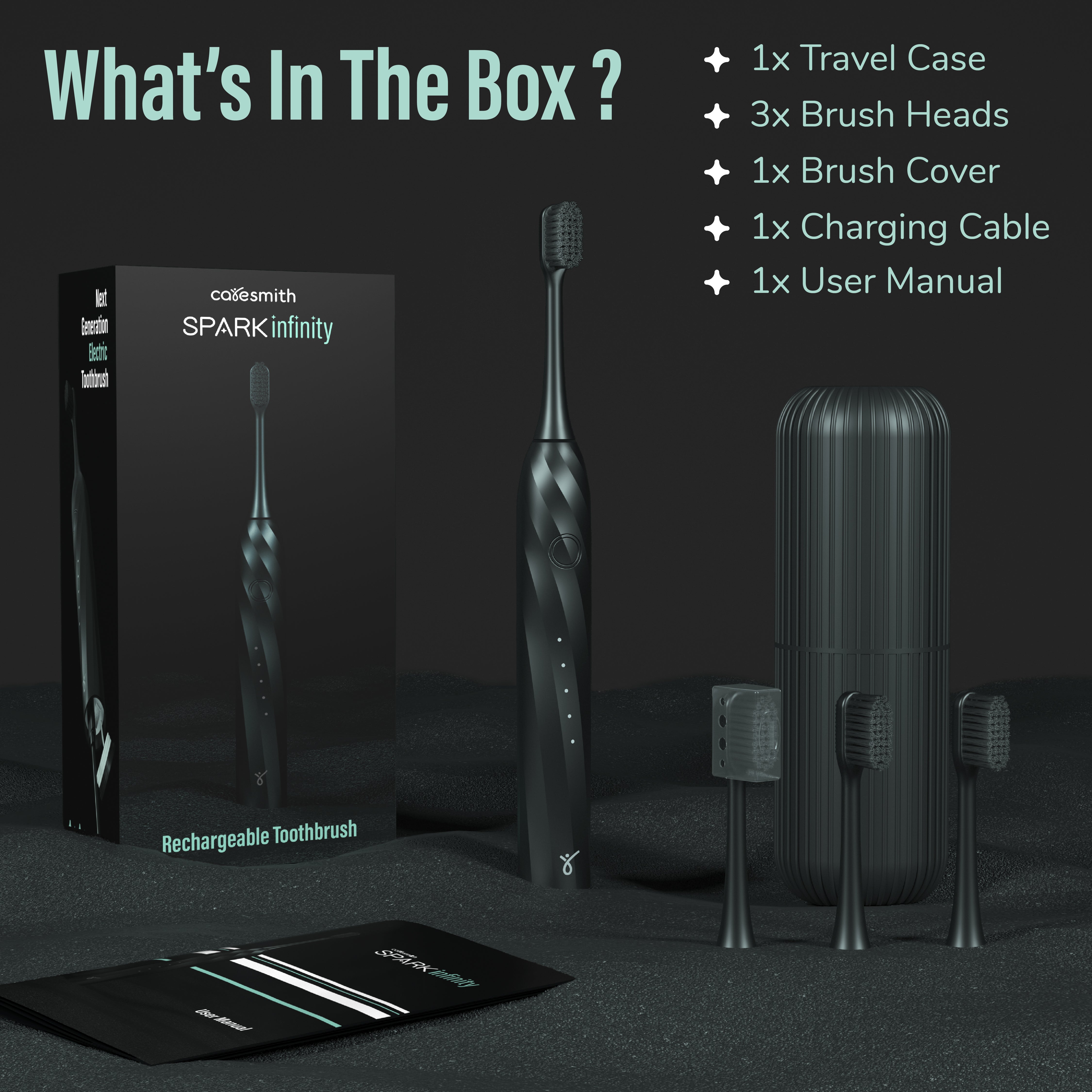 Get set to flash those pearly whites because everybody loves a bright, healthy and sparkly smile! Featuring superior sonic technology and advanced brush heads, the Caresmith Spark Infinity electronic toothbrush for adults is the next-gen in electric toothbrushes! With up to 41800 strokes/min Spark Infinity offers efficient plaque, food particle...
Regular price

Rs. 1,499.00

Sale price

Rs. 1,499.00

Regular price

Rs. 4,000.00

Unit price

per
1] Battery type - Lithium lon Battery
2] Capacity - 1200mAh
3] Rated voltage - DC 3.7V
4] Waterproof Rating - IPX7
5] Charging Input - DC5V-1A
6] Net Weight: 110g
1] 1 Rechargeable Toothbrush
2] 3 Toothbrush Heads
3] 1 Brush Cap
4] 1 Travel Case
5] 1 USB Cable
1] Attach the brush head
2] Wet the bristles and apply appropriate amount of toothpaste.
3] Position the bristles at a 45 degree angle
4] Turn the brush on when it is in your mouth to avoid splashing
5] Gently guide and glide the brush along Install Align the grooves in the brush head with the metal rod on the handle. Slide the toothbrush head down onto the handle Detach Gently pull out the brush head along the handle the gum line using only light pressure from your fingertips. Do not press or scrub hard. Slowly move the brush from tooth to tooth on the outer surface of your teeth
6] Now move the brush head slowly along the inner surfaces of all your teeth For best results, change the brush head every 3 months.
Good product
It comes with a good number of accessories at a reasonable price. Overall, value for money device.
Excellent Electric brush. I bought two of them.
I rarely write reviews. But this honestly whitened my teeth and removed plaque. But there are two reasons I am writing this review. One is because the item is honestly brilliant and second they provide an extended warranty for writing an honest review. So this is my honest review. The Item performed brilliantly when I first bought one for my wife, then seeing the results she got I bought one for myself. I bought the first one for 999 and the second one for 1099. So there was a price difference. It's worth even for a higher price. Let me start with design, brilliant and minimalistic. Sturdy, waterproof, and easy to use. The brush heads are cheap as well. I am moving out of the country and I needed an international brand in case I need to claim a warranty later. We both had honestly positive results, our teeth are noticeably whiter. I am a fast brushing guy and now I do take my time to brush because the results are so good. For the price, it's just brilliant. There 5 modes of brushing each with a different level of vibration and I just go with each mode. So this is money well spent. Seeing the build quality I really hope they last long.
Perfect
Easy to install and use.Hope it meets my expectations.
Ease of tooth cleaning
Very good built, stylish and good grip for tooth cleaning.
Super Silent and Powerful
Worked as advertised, my 2nd electric brush. Upgraded after my cheaper brush died on me, thought of going for quality this time.
We're committed to delivering on our promise with 100% dedication.